Flue Gas Analysers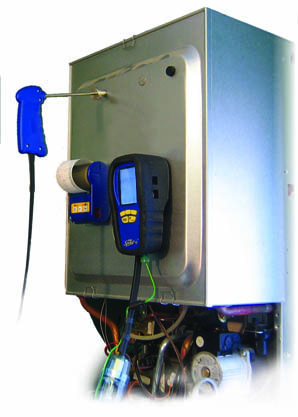 The CO Sub Group considers all aspects of domestic gas detection. Although focusing on domestic CO poisoning and alarms, the CO Sub Group is also involved in the standards and technologies for flue gas analysers (FGAs).
We discuss national legislation and BSi and CEN standards that are changing to require better CO2 measurements, adapting to hydrogen injected natural gas and monitoring spillage around boilers. FGA calibration and maintenance with evolving and improving sensor and wireless technologies are regular topics at CoGDEM CO Sub Group meetings.
These handheld digital gas analysers check the levels of CO in flues connected to boilers, fires, chimneys, vents, flues, and heaters in and around the home. They can also help to identify the CO source and determine which appliance needs attention. Many FGAs can also check ambient levels of CO throughout your home.
FGAs should be part of the equipment of all gas supply company personnel. They are used during boiler installation, annual appliance services, and call outs to suspected CO incidents to identify the CO source.
Many analysers can detect multiple gases, and some can provide a printout of CO levels found leaking from an appliance, providing evidence for medical personnel.
As with all high precision electronic devises, FGAs must be maintained, calibrated, and serviced to ensure accurate readings.
Gas engineers must ensure that the FGAs are regularly serviced and being used within working limitations and conditions.